Chinese video click here http://v.youku.com/v_show/id_XNjE5NTUxMzgw.html
World video click here http://www.youtube.com/watch?v=4NRiTBkzplM
Unlock method for iPhone 5s/5c is different from iPhone 5, the change of dual model unlock card and the rise of new carriers has made unlock card update new software and make more stable compatibility test. Therefore, R-SIM team has created this advanced unlock card--R-SIm 9, it is the first and only universal unlock card for iphone4S/5/5C/5S, it's used with R-SIM certificated card slot, thus make unlocking so simple and fast. With the new unlock universal software, new simple manual method, new default specialized model edition, new red circuit board and new package, R-SIm is a so beautiful unlock card! RGKNSE-SIM owns name brand, aboudant wisdom, good quality, top-class after-sale service. Till now, R-SIM has created multiple No.1 in the field. E.g.: The first release iPhone 4s unlock card, the first universal unlock card for iPhone 4s/5, the first universal unlock card for iphone4S/5/5C/5S, the first patented unlock card brand with certification, trademark and reference, the top sales for ten consecutive years in the world. R-SIM will keep on providing the unlock card product with more comfortable using experience and easier using method. The newly-released product is based on customers's needs, and divided into three editions:
R-SIM9 Pro: Can work for iphone4S/5/5C/5S, it has continued R-SIM's usual style with better compatibitity and intelligent choice for foreign customers. It has added some newly-developing carriers' compatibility test. Such as: Japan new carrier Docomo(IMSI code:4401020), USA Virgin (IMSI code: 3101200 or 3160101) USA T-Mobile (IMSI code:3102600 or 3102605) and so on. At the same time, default universal OEM customization has been added too and make the customized menu and default version for customers. Perfectly support iOS: 5-7. We sincerely thank the customers' company and support for our brand. R-SIM team will keep on moving!
First Step:
If your iPhone IOS is 6.0-6.1.2, please do according to the following instructions.This instruction link is
R-SIM Cydia Patch Have Been Released (iOS:5.01/5.1.1/6.0/6.1.2)Free
If your iPhone IOS is 6.1.3/6.1.4/7.X, because of IOS6.1.3 can't do perfect jailbreak, so it need to install the 3G active patch conecting the iPhone with PC. This instruction link is
R-SIM9 Cards' activation program (4G Patch) iOS:6-7.X
1. Please insert the R-SIM 9PRO and SIM card together in the iPhone, the following menu will be showed. (R-SIM 9PRO red side is back, the blue side is front )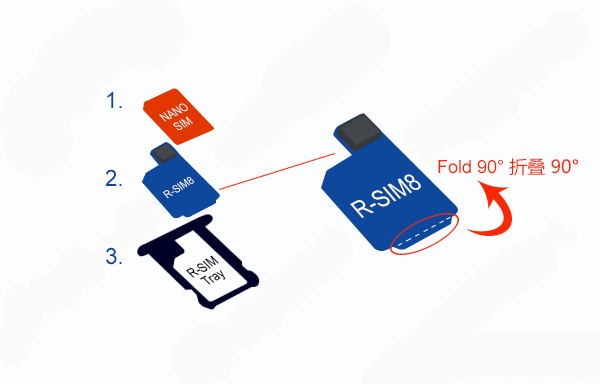 2: type (4S click i4S; iPhone5 click i5 ,iPhone5C/S click i5C&5S), click pop-up operator selection screen:




3: select the corresponding operators, note: not to use mobile phone card operators! (such as the United States Sprint models to select US Sprint; China Telecom type selection CHN Tetecom), after selecting a confirmation screen click "accept", to this step restart mobile phone waiting for the signal to!

If you do not know their own type, please set the 'general' 'on the machine model, view your iPhone model, or directly in the online search models, or use other software to connect the view (such as iTools, PP assistant)

Sales area code, namely the model finally at the end of the English alphabet

The Asian region:

CN= China ZP= Hongkong / Macao

TA= Taiwan KH= Korea

J= ZA= Japan, Singapore / Malaysia

PP= Philippines AB= United Arab Emirates / Saudi Arabia

America area:

C= LL= the United States Canada

E= Mexico LE= Argentina

The European region:

NF= France / Belgium GK= Greece

B= FD= UK / Ireland / Austria in Switzerland

PO= DN= Portugal Germany / Holland

Y= Italy T= Spain

KS= Finland / Sweden Denmark / Norway KN=

FB= Luxemburg RS= of Russia

CZ= Czech

Oceania area:

X= Australia / New Zealand

Africa region:

SO= LA= of South Africa Columbia

LE= Chile

4: when there's no you choose type pop-up operators list, click the first option "Other carrier" into the manual input the code model, (common operators see the code behind the code table), manual 7 digital input operator code and click on "send" (less than 7 digits plus 00.), then click "accept", restart iPhone can restart, about 5~10 seconds, appear magical signal!

Japan Docomo

4401020 , United States T-Mobile 3102600 或3102605, United States Virgin 3101200 或3160101
5:RSIM9 PRO intelligent program operation (when you choose the wrong operator or the need to set the default operator), click the iPhone "Settings - phone -SIM card application" displays the following RSIM menu:
6: Click "Select Carrier", select the carrier again. Click "Edit IMSI", it goes into the edit code mode, "Get Carrier Code" can get the carrier code number from the original sim card, it will be used when you don't know the carrier code number, inserting the original carrier SIM card and R-SIM 9PRO together, go to SIM application- get carrier code, So the R-SIM 9pro can get the code number from this original sim card, then click accept, turn off iPhone, then put out this sim card, and insert the new SIM card you want to use and the R-SIM9PROinto the iPhone, turn on iPhone, the signal will show 5-10seconds later.
Note: the memory function: EDTNo. When the last menu is EDTNo, it shows that setting the default carrier not succeed, or you don't restart the iPhone; if the last menu is US SPR or other carrier, it shows setting the default carrier succeed. So if you want to change another SIM cards after selecting the default carrier succeed, the R-SIM9PRO will popup the new menu as following automatic:

Selecting the "Default Carrier", it shows the same carrier with before, no need to set the carrier.

Selecting the "i4S or i5 or i5C&5S ", it shows to select the new carrier, and setting the new default carrier again on

this R-SIM 8, it equals to return the first step.
The Newest Carrier Code Number List
Country

Carrier

Code 1

Code 2

(Canada)

Bell

3026103




Fido

3023703




Rogers

3027204




Telus

3022200




(USA)

AT&T2

3104101




Sprint

3160100

iphone5
3101200

Verizon Wireless

2040438

cspire 3112300

(Germany)

T-Mobile

2620125

2620608

Vodafone

2620208




(Britain)

3

2342091




O2

2341091




Orange

2343301

2343320

T-Mobile

2343091




Vodafone

2341590




(France)

Bouygues

2082031




Orange

2080131




SFR

2081031




(Australia)

Optus

5050234




Telstra

5050134




Vodafone

5050379




(Japan)

au

4540492

iphone5
4405014

SoftBank

4402081




(Korea)

olleh

4500818













(Philippines)

Globe

5150201













(Spain)

Movistar

2140731

2140785

Orange

2140333




Vodafone

2140130




YOIGO

21404xx




(Sweden)

3

2400232




TELE2

24007xx




Telenor

2400885

2400680

Telia

24001xx




(Switzerland)

Orange

22803XX




Sunrise

22802XX





(Ireland)

O2

2720231




Vodafone

2720161




(Poland)

Orange

26003XX




T-Mobile

26002XX




(Hungary)

T-Mobile

21630XX




Vodafone

21670XX




(Austria)

Orange

2320588




T-Mobile

2320328




A1 Telekom

2320111

(Mexico)
Nextel
3340100
Telcel
3340200
Iusacell
3340500
Movistar
3340300
(China)
China Unicom联通
4600100
China Mobile移动
4600000/4600200/4600700
China telecom电信
4600300
2040400
(Finland)
DNA
2441200
(Venezuela)
Digitel
7340300/7340200/7340100
Movistar
7340400
(Bolivia)
Telecel

7360300
Nuevatel
7360100
ENTEL
7360200
FAQ (the Solutions of some problems )

1. Setting of internet:

After getting the signal, please go to Setting-General-Cellular-Cellular data. The parameter is the same with the sim card carrier.

You can ask your sim card carrier to know the detailed parameter.

For example of CMCC

APN: cmnet

MMSC: http://mmsc.moternet.com

MMSDa1L1: 10.0.0.172

Max MMS size: 50000




CMCC

Setting-General-Cellular-Cellular data. Find the two input box:




APN: CMNET

USER:

Password:




MMS:

APN: CMWAP

USER:

Password:




MMSC: mmsc.monternet.com

MMS agency: 10.0.0.172

Max MMS:

MMS UA Prof URL: